Here are the top 5 new blog posts for May 2012, beginning with the number 5. Thanks for reading!
MP Stephen Woodworth
This article was written about the hypocrisy of the Conservative Party of Canada as they turned on their own back-bencher, Stephen Woodworth. Woodworth presented a motion to review Canada's 400 year old-law defining when a baby becomes a human being under Canadian law. For this he received the criticism of some even within his own party. So much for democracy.
This is a guest post by Scott Jackson, president of Trust Communications and founder of LIFE 100.3 Radio.
The third most popular post was written the week following the wedding of my son Levi and his new bride Amanda. With all of the stresses on the institution of marriage, I felt it would be a timely subject.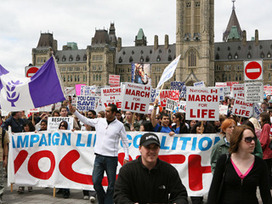 This article was written on the heels of the March For Life on Parliament Hill which went largely unreported in the mainstream media, though it was attended by some 15,000+ Canadians. It deals with a number of misconceptions about the abortion issue in Canada.
Akiane Kramarik (Age 17)
Once again Akiane Kramarik takes the top spot. I decided to write an update on Akiane since the old posts I've written about her received so much attention. This young lady continues to attract worldwide attention for her art and her poetry, based on spiritual themes. If you've never seen her work before, take the time to look through the artwork displayed on her website. It's worth the time.